IOI-A100U2W-Mac
PCI to Ultra2 SCSI Host Adapter for MacOS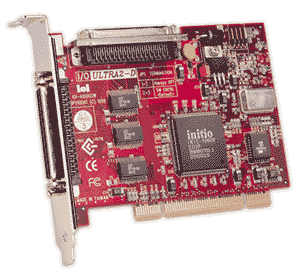 PERFORMANCE
80 MByte/sec SCSI Bus Transfers
ISGE Integrated Scatter / Gather Engine
Manage SCSI characteristics of connected devices with SmartSCSI utility
CONNECTIVITY
Connect up to 15 Ultra2 devices or up to 15 non Ultra-2 devices
Extended cable lengths of up to 12 meters for Ultra2 devices
Supports hard disks, CD-ROM devices, CDR devices, CDRW devices, optical drives, tape drives, scanners, MO drives, DAT drives etc.
COMPATIBILITY
Mac OS SCSI Manager 4.3 compliant
Support for Mac OS version 7.5.2 or later and MAC OS x
Uses current SCSI cables and infrastructure
Thoroughly tested with a broad array of SCSI peripherals and motherboards
RELIABILITY
Full 3 year warranty
100,000 Hours MTBF (POH)

IOI-A100U2W-Mac provides unmatched Ultra2 SCSI data transfers of up to 80 MByte/sec¡V that¡¦s 16 times faster than the built-in external SCSI in every Macintosh! Extended cable lengths of up to 12 meters for Ultra2 devices illustrate its system configuration flexibility. Thoroughly tested with the most common Mac peripherals, IOI-A100U2W-Mac provides the speed, flexibility, and compatibility required to optimize today¡¦s most powerful Macintosh systems.

The 32-bit PCI interface transfers data at the rate of 133 MByte/sec with a 33 MHz PCI clock. The Ultra2 SCSI interface is capable of bursting data at 80 MByte/sec on the bus. This high speed interface with its embedded I/O processor makes IOI-A100U2W-Mac suited for servers and professional desktops. IOI-A100U2W-Mac uses little or no CPU bandwidth by off-loading all the I/O tasks to the 32-bit I/O processor embedded in the controller. This results in very high system performance in I/O intensive applications such as multimedia, imaging, client server databases, intranet applications, web tools and RAID subsystems that require high availability and throughput.

While IOI-A100U2W-Mac is capable of keeping pace with the most demanding applications, it offers complete compatibility with your existing SCSI peripherals. You can combine SCSI-1, SCSI-2, SCSI-3 or UltraSCSI peripherals for optimum performance and value. In Ultra2 SCSI modes, the SCSI I/O pad design allows cable lengths of up to 12 meters, and in point-to-point configurations cabling can be extended up to 25 meters. This increased cable length provides greater flexibility in system configurations, especially in clustering and RAID applications.

IOI-A100U2W-Mac features SmartSCSI, a user friendly setup utility that allows configuration of individual SCSI devices and host adapter termination via the keyboard. Updates to the firmware can also be accomplished with SmartSCSI¡¦s intuitive interface. And the field upgradeable BIOS utility makes upgrading your system fast and easy.

IOI-A100U2W-Mac guarantees compatibility with the latest version of Mac OS-compatible systems. The newest in a family of PCI-to-SCSI host adapters from IOI, IOI-A100U2W-Mac has been fully tested to deliver the utmost in reliability and performance.

HOST BUS
HOST INTERFACE
32-bit, 33 MHz Bus Master DMA
HOST BUS DATA TRANSFER RATE
Up to 133 MByte/sec burst rate
SCSI BUS TRANSFER RATE
80 MB/sec in Ultra2 Wide Mode
40 MB/sec in UltraWide Mode
20 MB/sec in Fast Wide Mode

DEVICE SUPPORT

Connect up to 15 devices* using Ultra2 or up to 15 devices* using non-Ultra2

DEVICE INTERFACE

Ultra2 (LVD/SE) or UltraSCSI, SCSI-3, SCSI-2, SCSI-1; single ended

ELEC. TERMINATORS

Automatic, active terminators

CONNECTORS

One 68-pin H/D external UltraWide SCSI connector
One 68-pin H/D internal UltraWide SCSI connector

CABLE LENGTH POSSIBILITIES

Ultra2 (point-to-point configuration): Up to 25 meters (82 feet)
Ultra2 (multiple interconnect configuration): Up to 12 meters (39 feet)
UltraSCSI: Eight devices, up to 1.5 meters (5 feet)
UltraSCSI: Four devices, up to 3 meters (10 feet)
SCSI-1: Cabling up to 6 meters (20 feet)

PHYSICAL DIMENSIONS

5.30" x 3.80" (13.46cm x 24.18cm)

REGULATORY COMPLIANCE

OPERATING TEMP

0°C to 55°C (32°F to 131°F), 10% to 90% relative humidity (non-condensing)

STORAGE TEMP

-40 to 75?C(-40 to 167?F)
5% to 95% relative humidity (noncondensing)
PRODUCT OUTLINE

INITIO inic-1060


Transfer Rates:
Single-Ended Mode:
Fast SCSI (8 bit)
-5 MB/s Asynchronous (10 MB/s with UltraSCSI)
-10 MB/s Synchronous (20 MB/s with UltraSCSI)
Fast and Wide SCSI (16 bit)
-10 MB/s Asynchronous (20 MB/s with UltraSCSI)
-20 MB/s Synchronous (40 MB/s with UltraSCSI)
LVD Mode:
Wide Ultra2 SCSI (16 bit)
-80 MB/s Synchronous
---
OS SUPPORTS

Support for Mac OS version 7.5.2 or later and


Mac OS x
---
---

SCSI Knowledge and Related Information

SCSI Terminology

FAQ